Staind Frontman Aaron Lewis Talks About Being "Mr. Mom"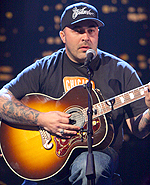 In an impressive display of multi-tasking, Staind frontman Aaron Lewis reveals that his band's latest album was recorded in a barn on his property as he split child-rearing duties with his wife, Vanessa. In November, the couple welcomed daughter Indie Shay, 8-months, who joined big sisters Nyla Rae, 3, and Zoe Jane, 6, at home. Aaron, 36, says he would often record until 2 a.m., only to get back up at 6:30 a.m. with Indie; he would then take Zoe to school "and be Mr. Mom all morning so … Vanessa could get some stuff done." By lunchtime, Aaron's day would be in full swing. He adds,
At noon I would go up to the studio and start working. At 3 o'clock I would stop what I was doing in the studio and I would go and I would pick my daughter up from school and then go back up to the studio and work until 2 o'clock in the morning. And then get up at 6:30 in the morning with the baby again.
Staind's new album — The Illusion of Progress — is scheduled for release on Aug. 19.
Source: LiveDaily; Photo by Trent Warner/StarTraks.