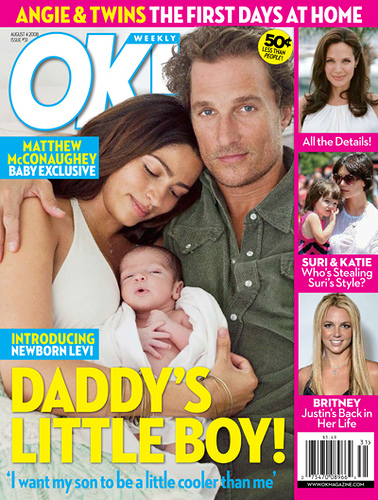 Update 4 p.m.: More quotations added!
Originally posted 4 a.m.: For Matthew McConaughey and Camila Alves, who introduce their 2-week-old son Levi Alves McConaughey in the latest issue of OK!, finally finding out the sex of their baby was just the delivery surprise they'd been hoping for, confirming their suspicions throughout the pregnancy. Shared new dad Matthew of the July 7th birth, "I said, 'Come here, little man.' I saw the pecker and screamed that we'd been right all along about him being a boy!"
Although they wanted to wait until the day he was born to find outfor sure, Matthew and Camila both felt they would have a son. WhenCamila told Matthew she was pregnant, the actor says he replied, "'It'sa boy,' and without thinking, she replied, 'I know.' Instincts setright in. We knew it was a boy." Telling the magazine parenthood wassomething they planned on, Camila and Matthew joked back and forth.
C: It was not an accident.

M: I was an accident! Levi was not.

C: Well, I was planned!
Click 'Continue Reading' to learn about Camila's long labor, emergency c-section, who Levi looks like, Matthew's diary keeping, parenting thoughts, if they want more kids, and a large image!
Levi's arrival began on the morning of Saturday, July 5th, whenCamila's water broke as the couple was waking up at their California home. Keeping true totheir laid-back style, the pair rolled with the punches, "giggling and laughing" as labor started, Matthew said.
We called the doctor. He said to comeon down and see him and that we might be able to go home in theafternoon. I made a pot of coffee, she took a shower, her water brokesome more. The doctor had just checked her and said she wouldn't be ready until the 12th. But when we got down to the hospital, major water broke. I [said,] 'Okay, we're on.'
There was no going home for Matthew and Camila however, as the birththe couple had planned on fell apart bit by bit as Saturday turned intoSunday, then Monday. The couple ended up checking into Santa Monica-UCLA Medical Center under the name Kay McCabe, Matthew's mother's maiden name. "We were in the hospital 59 ½ hours before the birth, but who's counting?" laughed Matthew. Camila, whowanted a natural birth without medication, "found a great rhythm"initially, Matthew says.
M: Contractions started kicking in. We had a14-hour session, her and I did. I sat there with her, right between herlegs. We got tribal on it, we danced to it! I wasDJ-ing this Brazilian music. We were jamming!

C: For 14 hours!
Things quickly picked up from there, as the contractions becamestronger and more frequent. "[Camila] was sweating. No painkiller,let's go.She just clicked into that gear that only a woman has at a time likethis," Matthew explained. "We'd been up for 40-something hours, and wewent from dead tiredto a really steadfast, 'Let's handle this… let's stay in the rhythm.Don't let the contraction be more than you.' The doctor wanted to give her an epidural, and we said, "Give us a few more hours to keep rocking with this.' I wasn't speaking for Camila. She had the option of saying, 'Give me an epidural, right now,' whenever she wanted. [But she didn't.]"
The couple chose to deliver at Santa Monica-UCLA because their ob/gyn and the hospital staff was completely open to their birth plan, which was to stay natural for as long as possible, hopefully through the entire birth.
M: They allowed us to have things as naturally as we wanted. Our ob/gyn said we could close the door and walk around and sing and hop in a bucket of water if we wanted. We wanted that, but we also wanted Western medicine right at our beck and call in case we needed it.

C: They were really wonderful, really amazing.
Despite Camila's best efforts and Matthew's support, after two days of labor, the couple ended up approving a late-stage epidural as an attempt to lower stress on the baby — the umbilical cord was being compressed with each large contraction. Trying to avoid a c-section delivery, the Brazilian model's ob/gyn undertook a vacuum extraction, which failed as well. At this point, Matthew shared, he and Camila, 25, realized the delivery would be taking a different direction.
M: This is where I learned — and no one tells you this — but having a babyis a bloody, pukey, sweaty, primeval thing! And I mean that as abeautiful thing. It is wild. But the vacuum didn't work, and the doctorsaid, 'C-section.'

C: I didn't want to have a c-section, but they had to make a decision about what was best for the baby and best for me.
After bringing Camila into the operating room, Levi was delivered quickly on the evening on Monday, July 7th, with Matthew being the first to hold him and cut the cord.
He came out with the umbilicalcord wrapped around his neck, so it was the right thing to do. Of course, if we'd known this was howit was going to go, we could have gotten it done in the first threehours. We laughed, but that was Mother Nature and the baby saying,'Thank goodness for Western medicine.'
Recording the proceedings in a diary as or just after they happened, the 38-year-old actor is happy to "have it all chronicled. It was a first-time life experience, and I was writing down what I was thinking, what she was thinking, and what the medical options were at each stage." Matthew shared that "becoming a dad is somethingI've dreamed of doing since I was 10. Passing along my lineage has always been important — it feels like a privilege. Becoming a father felt very, verynatural. I had him for the first 15 minutes because they had to take care of Camila."
Now that Levi is here and Camila is recovering, the couple have taken to dealing with more pressing matters — such as which parent their little boy resembles! Camila revealed, "Everybody thinks he looks like me because of the hair and skin tone. I think he looks more like Matthew every day." Dad agrees, explaining, "I've pulled out some baby pictures of myself, and theresemblance is amazing."
There is a great new respect you get for the mother of your child. Thirty-eight years I've put in – Camila's put in 25. This kid has a lot to learn from us. I want himto come out being a little wiser, a little cooler and a little happierthan we are. I just hope to set up an environment where he can be as much Levi as he can be.
For now, Levi's parents are learning how best to take care of him, with the help of family and friends. The grandparents — Matthew's mom and both of Camila's parents — have visited or are currently staying with the couple. Additionally, Camila worked with lactation consultants at the hospital to learn how to nurse, and Matthew taught himself how to change diapers — "Actually not a big deal" — just the other day.
C: It's all about his feeding schedule now, every three hours.

M: If he's crying, it's because he has gas or wants some food. I can't help with the feeding, but I do burp him. I'm a great swaddler too, and I change diapers.
As for parenting, Camila and Matthew agree on a few things — first, no pitting one parent against the other. Matthew says, "We're not going to play good cop, bad cop. The father can't say one thing and the mother, another. That's not good for the kids." Secondly, a wide worldview is important to both, and they hope to return to Camila's homeland of Brazil to introduce their son to the country and culture. Matthew explains, "A full passport is really the coolest diary or document of how you've lived your life. I've filled a couple now."
Camila's from Brazil, but I've never been. We want to establish some sort of lifestyle there because we want Levi to absorb the culture where his mother came from. Culture is very important to both of us.
Does the couple want more kids? Still deep in the throes of recovery from her difficult delivery, Camila tells OK! to not even go there!
C: Definitely too soon [to ask about more]!

M: I'm going to keep my mouth shut on that one. I think she just answered it!
Click here to visit Jezebel for a super cute photo of Matt and Levi — both smiling! In lieu of payment for Levi's introductory photoshoot and interview, OK! made a substantial donation to Matthew's j.k. livin foundation.
Did you have an active labor that resulted in a c-section? Please share your story in the comments.