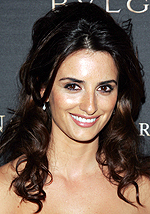 In the cover story for the August issue of W magazine, Penélope Cruz says she sees motherhood on the horizon. The 34-year-old actress has long been a proponent of adoption, and admits it's something she's "thought about a lot." She adds:
But I don't know. I feel like I still have a lot of time.
Penélope is currently dating her Vicki Cristina Barcelona co-star, actor Javier Bardem.
Source: W magazine; Photo by Getty Images.