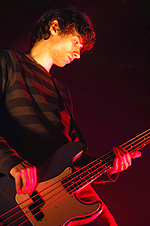 If you're hoping to catch bassist Gordon Moakes perform with his group Bloc Party this summer, you may be disappointed. The 32-year-old will be off the road spending time with his wife, who is expecting the couple's first child in a few weeks, in case "the little one decide[s] to put in an early appearance."
So while the other chaps are jetting around the Pacific Rim I will be buying the groceries, attending ante-natal classes and generally preparing myself for the cloud of unknown that is becoming a Dad.
Gordon's friend Daniel Lindegren, aka Tommy Sparks, will be taking over for him for part of the tour.
Source: Bloc Party's Official Website; Photo by Shirlaine Forrest/WireImage.