WWE Wrestler Randy Orton Welcomes Daughter, Alanna Marie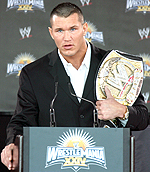 WWE wrestler Randy Orton, 28, is a new daddy! Randy and wife Samantha welcomed daughter Alanna Marie Orton on Saturday, July 12th at 9:24 p.m. She weighed 8 lbs, 10 oz. and was released from the hospital on Tuesday, July 15th. The new dad shared that "she is absolutely flawless from head to toe, and a very content baby."
Alanna is the first child for Randy and Samantha, who were married on September 21st, 2007. The couple announced the pregnancy in December.
Source: Randy-Orton.com; Photo by Andy Fossum/StarTraks.
Thanks to CBB readers Kim and Natalie.