Jessica Alba introduces daughter Honor Marie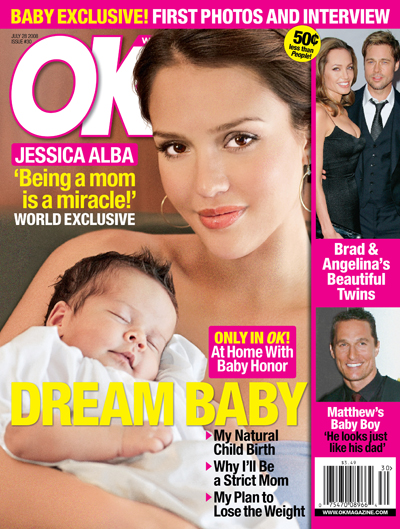 Motherhood "hasn't totally sunk in" for actress Jessica Alba, who gave birth to daughter Honor Marie Warren almost six weeks ago. Honor "dreams, she smiles … coos and does all these things …There's no other way to explain it. It's a miracle." Introducing her and husband Cash Warren's little girl in OK! this week, Jessica, 27, opens up about her hypnobirth-driven delivery experience, calling it "very Zen."
I didn't scream. I wanted to do it naturally. The labor was more like meditation — I did yoga breathing. I was focused.
For his part, Cash is in awe of his wife, who "didn't make a sound. It was amazing. It's still amazing that [Honor] was living inside of Jessica." The couple agree that Honor is a mixture of both parents, but leaning heavily towards the daddy-side at the moment — which is no problem for Cash. He jokes, "I want her to look like me,because a daughter looking like Jessica, I'd kill myself!"
He explains, "Right now, she looks like a girl version of me. She has my nose, my eyebrows." "[And his] forehead and dimples," Jessica interjects, adding, "She has my mouth when I was a baby. And my ears."
Click 'Continue Reading' for how they chose her name, being bilingual, nursing, and more!
Since their daughter's name is a bit off the beaten path, Jessica and Cash know people are curious about how they settled on the moniker. The answer? A friend suggested it. "We were having a girl's night, and one of my friends said, 'If I ever had a girl — but I'm not having any more kids — I will name her Honor,' Jessica shares. "I said, 'That's a great name for a boy or a girl.' And my middle name is Marie." It also fulfilled a requirement for both parents — that the name be somewhat different from the norm.

C: I liked growing up with a unique name.

J: I was always irritated that my name was Jessica. Come on, it's a very '80s name, because there were tons of Jessicas in every school I went to.
As Jessica has previously mentioned, she and Cash believe it's important for their daughter to be exposed to at least two languages. Jessica is of Danish, French-Canadian, and Mexican descent; however, her immediate family does not speak the languages. Instead, she hopes Spanish will be something Honor "can speak to my grandmother and my aunties." Dad Cash explained his personal reasons for why being bilingual is a positive.
I speak French. Growing up with two languages just helps; it broadens you and gives you some perspective.
Having enjoyed a lot of "soul food" in recent weeks, Jessica is being careful to eat better, saying, "Now I'm starting to eat morehealthy. Because after working out, having fried chicken and mashedpotatoes is a little counteractive!" She began post-baby workouts on July 10th — but only for 20 minutes ata time, and just doing cardio on her own.
I'm doing it slow. I lost the tummy just breastfeeding. I wear a band that my girlfriend wore after she gave birth. People wear it for their backs. I saw my friend six weeks after she gave birth and her tummy was right back to where it was before. I was like, "I gotta do that!" [laughs]
As far as splitting up parenting duties, Jessica and Cash try to keep things equal, and Cash has some advice for new dads — change the diapers!
C: I change the diapers…

J: Because I'm the food source! [laughs]

C: That would be my advice to any new dad: Be that diaper changer because it's really not that hard! I'm sure it'll be different in a year.
Becoming parents together has been quite the experience, the couple shares. Jessica explains, "Cash is such a good husband and father. I'm so proud of him. He's really gone above and beyond. The more things we've gone through with each other, it's gotten better." As for Jessica, Cash is equally complimentary, revealing that she's "always had a motherly quality."
It doesn't really come out in the press a lot, which is fine because they focus on one thing only. But with people that she's close to or any of the people she's worked with, they recognize that she's always had this great motherly quality.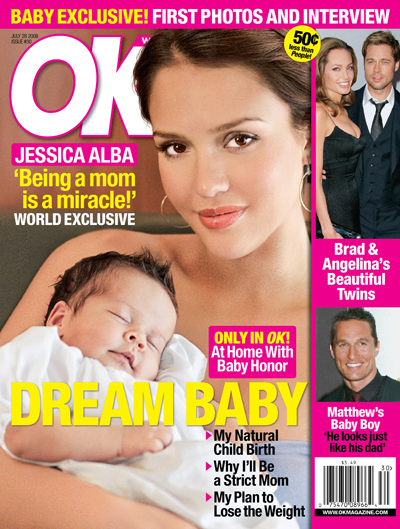 Source: OK! Magazine; Cover courtesy OK!