Brad Paisley: "We don't have a nanny"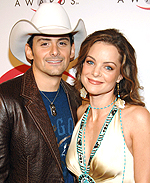 You don't have to worry about fame and fortune going to Brad Paisley's head. In a new interview, the 35-year-old country singer says he'll never lose touch with his "working class, everyday people" roots. That humble approach to life extends to William 'Huck' Huckleberry, 16 ½-months, his son with actress Kimberly Williams-Paisley. Noting that the couple "don't have a nanny," Brad says that they instead rely on each other and their own moms to "take turns in dealing with him." He adds,
I don't care how high and mighty you are: Change a diaper, man.
The life of an entertainer often means that Brad is at times forced to be away from his family, but he notes that it just as often means that he gets to stay home when other dads could not. Although touring "looks like it would be tough," Brad says, "it isn't."
[Living] in Nashville, I know that one weekend I'll be in Charlotte and Raleigh, but then I'm back on Sunday. You can be home more than you are away. And in all fairness to my family and my wife, I have been off since February.
Huck is the first child for the couple, who wed in 2003.
Source: Cincinnati.com; Photo by Dimitrios Kambouris/WireImage.