Rachael Ray "enjoys kids" but has no time for her own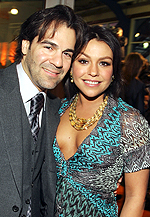 Celebrity cook and talk show host Rachael Ray is one busy woman. Not only is she constantly on the go with her television shows and cookbooks, but she also formed Yum-o, a non-profit charity to help children develop healthy relationships with food. Through her charity, the 39-year-old is able to "work with kids at every age" which is good for Rachael as she feels so has no time to have children of her own.
I enjoy kids so much but I don't have time to physically have them. I'm going to be on the air for another three or four years, so I may not have the opportunity.
Rachael and her husband John Cusimano were married in 2005.
Source: Ladies' Home Journal, August issue; Photo by Stephen Lovekin/ Getty Images.