Maggie Gyllenhaal says priorities shift after motherhood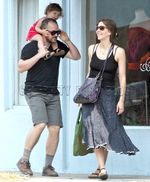 The set of The Dark Knight could have been a very dark place indeed given the film's subject matter, but Maggie Gyllenhaal says it was anything but thanks to a family-friendly atmosphere. She shot the film while her 21-month-old daughter Ramona was just an infant, often bringing baby to the set, and she had lots of company like 2 ½-year-old Matilda Rose Ledger, daughter of the late actor Heath Ledger, and director Christopher Nolan's four children. Co-star Aaron Eckhart says "the baby talk was rampant in the makeup trailer," and revealed that Maggie talked "with such excitement about her daughter." You won't catch Maggie being so enthusiastic with reporters when the topic turns to her family with fiancé Peter Sarsgaard, however. The 30-year-old actress says the couple do their "best" to keep Ramona out of the spotlight "but it's very difficult."
Maggie did reveal that she didn't feel compelled to begin working again until Ramona was 1-year-old, and that even then, when she contemplated a return to acting she was hesitant. Some shoots are out of the question, like one that would have required her to spend time on an uninhabited island. Peter "was great," Maggie recalled, "He said, 'If you want to do it, we'll figure it out; I'll go with you and take care of her.'" Ultimately she decided against accepting the part, however. "I think it would be irresponsible. I can't do that anymore. Your priorities shift," she said.
Click 'continue reading' to hear about Maggie's decision to star in a series of advertisements for Agent Provocateur.
After finding herself "a good 20 pounds heavier" following Ramona's birth, Maggie says she needed a pick-me-up; Agent Provocateur to the rescue! "They make nursing bras, and I went right in there and bought three pairs of matching bras and underwear that made me feel so good about myself," Maggie said, "All of a sudden, to have a hot-pink something peeking out from my shirt a little bit — it made me feel so good." In fact, she was so impressed with the lingerie company she agreed to pose in their print ad campaign.
I found myself, six months after having a baby, in my underwear, getting my picture taken. How did I get here? It was like playing a character. They're sexy, but they also have a little bit of irony in them. I love that.
Ramona is the first child for Maggie and Peter. The Dark Knight hits theaters July 18th.
Source: USA Today; Photo by BauerGriffinOnline.com