Kyra Sedgwick says kids tease her "constantly"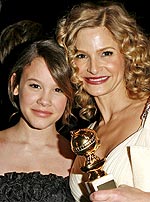 Playing a "deeply flawed and complicated, fragile and strong" character on tv in TNT's The Closer hits home for Kyra Sedgwick in some ways more than others. The 42-year-old actress — mom to Travis, 19, and Sosie Ruth, 16, with husband Kevin Bacon — admits that she's "a slob" in real life who is at times forgetful, much to the chagrin of her family. "I foget things all the time," Kyra tells Parade, "and it really irritates everybody." She adds,
It irritates Kev because somehow he remembers it all and my kids do too. They're like, 'Mom, I told you. Don't you remember?' They think I'm funny because I do silly, stupid things. So everyone teases me constantly.
Kyra and Kevin have been married since 1988.
Source: Parade; Photo by Donato Sardella/WireImage.