50 Cent says separation from son is "tough"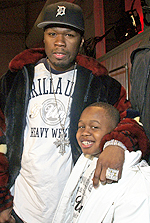 In years past, 50 Cent has enjoyed spending his summers on the road with his 11-year-old son Marquis. But this summer, with the 33-year-old rapper embroiled in a lawsuit with Marquis' mother Shaniqua Tompkins, 50 Cent says he's been cut off from all contact with his son. The breakdown in communication is "tough," he tells MTV, and the relationship between father and son "is changing."
I really don't wanna talk about it, because my son at some point will have the opportunity to see the tapes. She's still his mother, and I'm still his father, regardless. He's gonna love both of us.
Shaniqua recently obtained a restraining order against 50 Cent, after her Long Island home was destroyed in a fire officials deemed "suspicious." She later filed a defamation lawsuit against the rapper. 50 Cent clarified, however, that he's "not going through a custody battle, just a transition," adding, "I'd like to be able to just see my baby."
Source: MTV; Photo by Elizabeth Lippman/Splash News.