Smicko'z: They've Got Your Big Kid Covered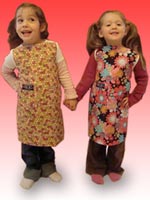 Smicko'z aprons
I've pretty much come to accept the fact that life with a 3-year-old is going to be messy. Sometimes really messy. So when Smicko'z came onto the scene, I was rather excited. It's not-quite-a-bib and not-quite-an-apron. It's a Smicko! Dubbed as cover-ups for the child who is "too old for bibs… still spillin' like a villain,"Smicko'z really fit the bill at my house.
When we pulled the brightly-colored Smicko ($27.99) out of the package (there are fifteen awesome and kid-friendly patterns to choose from) my son was so excited. "It's so easy!" he proclaimed as I tied it on him — I swear I didn't pay him to say that. The innovative Smicko'z tie-up system goes over the arms and ties at the back, leaving nothing to go over the child's head or tie around their neck (see photo at right). It also means the tie is out of reach for curious little fingers. So he's right. They really are easy. And safe!
As we proceeded to eat our soup and he proceeded to spill it everywhere, he proudly declared, "See? If I splatter it doesn't go anywhere!" Right again. The 100% cotton cover-up caught everything — splatters on his chest and his lap were all blocked handily by the Smicko and aside from tossing it into the laundry, I had nary a clean-up when lunch was through.
Smicko'z are getting a lot of use in our house — whether my son's eating, painting, or pretending to be a barista (can you tell the kid frequents the local coffeehouse a little too often?). And when he's not wearing them? Well, thanks to the great fabric selections available, Smicko'z even look good hanging in our kitchen!
To purchase Smicko'z for your little mess-makers, visit Dear-Born Baby.
— Stephanie