Mariah Carey talks about the responsibilities of parenthood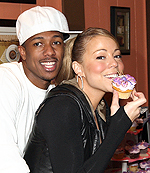 Being a mom means "you have to take a backseat" — something celebrities are often hesitant to do, Mariah Carey says in a new interview with Elle. That's why the 38-year-old songstress shares that if she and husband Nick Cannon do have children someday, they're prepared to take the focus off themselves and instead put it on their child.
You can get caught up in Hollywood-land or celebrity-land, and that's maybe not the best thing for kids, 'cause they didn't ask for it. I really feel like it's very important to be responsible and to think, 'Well, maybe if I do this it's not the best thing for my child.'
Mariah added that she has no qualms about the kind of parent Nick will make, telling Elle "I couldn't imagine anybody that I've ever met being a better dad."