Kyra Sedgwick forgot to have more children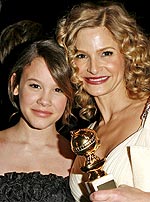 The Closer's Kyra Sedgwick realized something while she and husband, actor Kevin Bacon, were watching their eldest child, son Travis, graduate from high school — "We forgot to have more children." Now that Travis is 19 and daughter Sosie is 16, Kyra wouldn't mind adding to their family, but Kevin has "never wanted to have another one."
One reason that the 42-year-old loves being a parent is what she receives from the relationship with her kids. Kyra declares that the greatest gift she has ever been given is "being a part of their [Travis and Sosie's] life, spending time with them, and watching them grow." While being a parent can sometimes take priority in life, Kyra makes sure that the "primary relationship" in her life is with husband Kevin.
Of course the kids come first in planning your life, but it's incredibly important to keep your relationship as a couple strong and make time for it. It's the foundation on which everything is built. Kids should know that your needs are important, because if they think your happiness lies only with them, that's a lot of pressure on them.
Kyra and Kevin will celebrate their 20th anniversary this year, and the actress firmly believes that her kids are benefiting greatly from their parents' strong relationship, explaining that "they feel safe when they know Mum and Dad are good, enjoying each other's company and wanting to be alone together."
Source: Redbook, August issue; Photo by Donato Sardella/WireImage.