Jessica Alba opens up about pregnancy, Cash Warren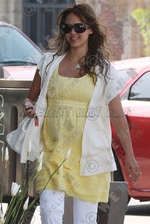 Though men's magazines have christened Jessica Alba with titles like "Sexiest Woman in the World" time and time again, the new mom tells the U.K.'s Cosmopolitan magazine that pregnancy left her feeling exactly the opposite.
"I never felt less sexy," she says of her own pregnancy. "I mean, I wouldn't have changed it for the world…but I wanted to get rid of all the weight."
The 27-year-old actress, who gave birth to daughter Honor Marie five weeks ago, says that settling down with husband Cash Warren, 29, was an unexpected — but pleasant — surprise.
I never thought I'd find a man before 30, let alone marry him and havehis baby. I always used to meet the wrong guys — the ones who wanted to hang out for a week and see how far they couldget. If you didn't have sex in the first few days, you were eitherfrigid or a lesbian. So I held out — and, boy, am I glad I did!
The couple's wedding, which took place at the Beverly Hills courthouse in May, was no-frills and "very romantic," said Jessica, who explained that they're "not a typical Hollywood couple."
I love that he's notan actor. I'm way too high maintenance to be in a relationship with anactor — they're all such divas! Nothing was planned — the pregnancy or the wedding. But [Cash] took it in his stride and convinced me we'd conquer all!
Source: People.com; Photo by WENN.