Emma Roberts breaking out in Hollywood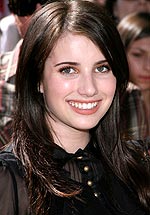 Emma Roberts, the 17-year-old daughter of Eric Roberts and niece of Julia Roberts, has been acting since the age of nine, however, TV Guide believes she is about to become a break out performer. The magazine has ranked the Nancy Drew star among their top 13 young up-and-comers in the entertainment business. Emma placed seventh on the list.
The young actress has three movies scheduled to be released over the next year — Wild Child, Hotel for Dogs and Lymelife.
Emma's mom is Kelly Cunningham.
Source: TV Guide; Photo by Jen Lowery/Startraks.