Christie Brinkley and Peter Cook settle custody dispute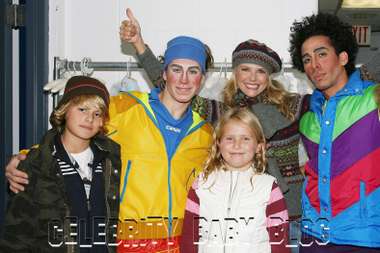 Supermodel Christie Brinkley and her ex-husband Peter Cook reached a sudden settlement in their divorce trial this morning. The sparring couple finalized details today at 6:15 a.m., deciding Christie, 54, would have sole custody of children Jack Paris, 13, and Sailor Lee, 10 (pictured at left, with members of performance troupe Cirque du Soleil), while Peter would be granted "parenting time." However Christie, who called the end of the deliberations "a very bittersweet moment," will have sole parental decision-making power.
"I was here fighting for custody," Christie said in an address to the media today. "I think a mother'sgreatest fear is somebody trying to take her children, trying to takecustody of her children. That's what I was up against. And so I've woncustody and decision-making, and that's really all I ever wanted."
The couple split two years ago after news broke that Peter, 49, was having an affair with his then-teenaged assistant.
Source: People.com; Photo by Startraks.