Carla Bruni says she loved being pregnant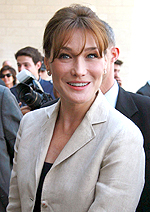 In a new interview with the French magazine VSD, Carla Bruni-Sarcozy said that contrary to rumors, she is not currently expecting a baby — but she definitely wishes she was. "I'm not pregnant and I regret it," the 40-year-old singer and wife of French President Nicolas Sarkozy said, "because I love it when I am." Carla acknowledged that time is no longer on her side, however. She said,
Will it happen? It is very difficult for me to say. However, it is more difficult when you are 40 than when you are 25.
Carla has a son, 7-year-old Aurélien Enthoven, from a previous relationship; Nicolas has three children and two step-children from previous marriages.
Source: Daily Mail; Photo by ELIOT PRESS/Bauer-Griffin.