Shiloh, Suri and Violet play mommy with their Corolle baby dolls
Whether cradled on the arm of Shiloh Jolie-Pitt or nestled in a stroller with Violet Affleck, Corolle dolls have been "adopted" by some of the most famous tots in the world. The paparazzi have photographed Shiloh, Violet and Suri Cruise carrying their Corolle dolls everywhere from the shops in Cannes to the Broadway shows of New York. Designed in France, Corolle dolls are known for their attention to detail and craftmanship and light vanilla scent.
Both Suri and Shiloh have been photographed with their lifelike Bébé Chéri dolls. Designed to resemble a three-month-old baby, this doll can wear real baby clothes and accessories. With their famous "moms'" closets, these toys have the ultimate wardrobe! Seen with her around Cannes, Shiloh's Bébé Chéri has worn everything from frilly dresses to t-shirts and shorts, all from her famous little Mom's personal closet.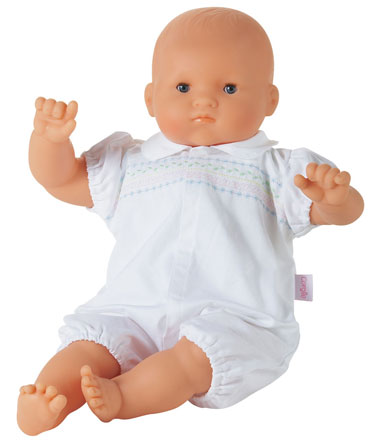 Meanwhile, Suri's Bébé Chéri caught a performance of Hairspray on Broadway with mom Katie Holmes as she vacationed in New York City. With bottle in hand, Suri held tightly to her Chéri, dressed in a white dress fit for summer. She also brought Chéri with her when she and her mom hit Madison Avenue for a little shopping.
Violet brings her Corolle dolls with her whether out and about with mom Jennifer Garner in Los Angeles or Malibu or traveling to Toronto or New York. Her Calin baby doll, known for her cuddly "bean bag" body, has been spotted with her in Malibu, as well as her Bébé Charmeur, and Bébé Do has been seen in Toronto and New York. Violet also has Corolle gear for her dolls, like the floral print stroller she used for a walk through a nearby farmer's market with mom Jennifer Garner and "Uncle" Victor Garber.
With dolls appropriate for every stage of your daughter or son's childhood, Corolle dolls are a lovely choice for them to play at being mommy or daddy. They are sold nationwide and can also be purchased online at www.corolle.com.
Photos by DC/DS-ISM/Flynet, Splash, Ramey.