Jamie Lynn Spears introduces Maddie Briann Aldridge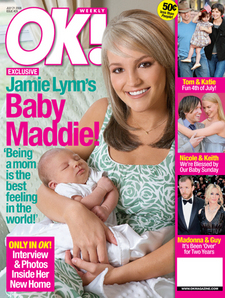 "Around here, everyone has the same focus. The focus is family, and that's a good way to live," explains Jamie Lynn Spears, who introduces 3-week-old daughterMaddie Briann Aldridge on the cover of OK! Magazine this week. After an induced labor, Jamie Lynn gave birth to Maddie in McComb, MS on the morning of Thursday, June 19th, an experience which she refers to as "perfect" — Maddie came even faster than expected! Jamie Lynn admits she was nervous about the delivery, but "it all fell into place" when the time came.
I was right on schedule. They'd told me it would be an eight- to 12-hour labor, and I was readyto have the baby in three to four hours. I had a perfect pregnancy and a perfect delivery. There was no c-section. There were no emergencies. She was perfectly healthy. I had a normal, natural birth. I was very blessed.
Click 'Continue Reading' for more from the interview!
Describing the first seconds with her daughter as "surreal," Jamie Lynn echoes every other new mother's warning that "you can't even imagine that moment" until you experience it yourself.
She just looked at me, and she didn't really cry at first. I was scared, and then she stated screaming. It is the best feeling in the whole world.
As much as Jamie Lynn would like Maddie to look like her — "Icarried her for nine months!" — she looks exactly like her father, afact "he reminds me of … every day." The couple decided on theirdaughter's name together, but fiancé Casey Aldridge came up with the final choice forthe first name, Jamie Lynn revealed. "Maddie is a name that Caseythought of, and I really liked it." Briann is in honor of Casey'scousin and close friend, Brian, who was killed in a car accident inearly June, as well as Jamie Lynn's older brother Bryan. The coupletweaked the name slightly by adding an extra 'n.'
Nestled away, bonding with their daughter in Louisiana, Jamie Lynn and Caseyare getting settled and establishing a routine with their "very good"little girl, who sleeps in a bassinet next to their bed. "She'll feedevery two or threehours. When she wakes up in the middle of the night, I'll feed her andshe goes right back to sleep. There's no screaming and crying," sharedthe grateful 17-year-old actress, who is nursing. "My instincts just wake me up when she's hungry and she's waking up too."
At first, I didn't know how I was going to know when to do what, but it all just falls into place. We get up in the morning, and she gets herlittle bath. Then I get my bath. We have a routine, and I loveroutines. I've worked one out with her, and we're happy going about ourlittle life.
Still, Jamie Lynn is realistic, exclaiming, "You wouldn't believe what a workout it is just to take care of a baby! You are non-stop doing something." For Maddie, her main job is chowing down — Jamie Lynn explains that "I'm just trying to eat healthy for her sake and my sake." As a teenage mom, the actress knows some believe the deck is stacked against her. However, she is focusing on her daughter, telling OK!,
I want to better myself, so I that I can make her life better.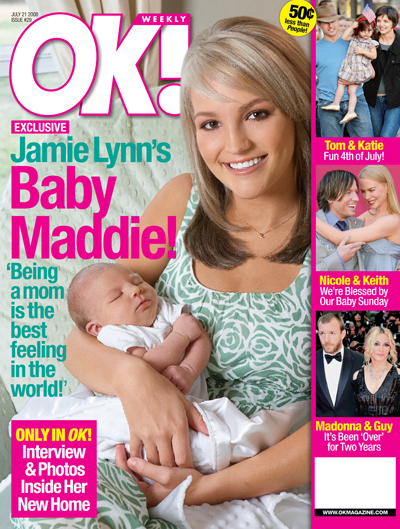 Click on over to OK! Magazine to see a larger image! Pick up this week's issue for more photos and an extended interview.