Lara Logan "looking forward" to motherhood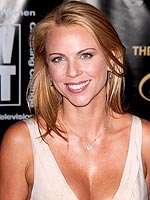 CBS Chief Foreign Affairs Correspondent Lara Logan, 37, is pregnant with her first child. She tells the Washington Post that baby-on-the-way is due in January, and that she's "looking forward to being a mom."
The baby's father is Joseph Burkett, a federal contractor working in Iraq, where Lara herself was recently stationed for four years with CBS. Lara shared that she lost a fallopian tube during a previous ectopic pregnancy and thought that she would have difficulty conceiving a baby; To that end, Lara revealed that the baby she expects with Joseph was unplanned. While the timing of the pregnancy has raised eyebrows with some, CBS News President Sean McManus raved about Lara's skills as a reporter, adding that "depending on her situation with her child, I'd anticipate she'd be covering the war in Iraq again."
Source: Washington Post; Photo by Joe Corrigan/Getty.