It's a dog world for Famke Janssen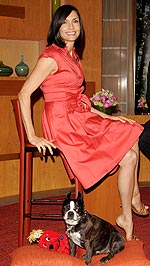 Who needs a child when they can have a dog? That is actress Famke Janssen's question. The 42-year-old admits she is perfectly content spoiling her 7-year-old Boston Terrier, Licorice, and has never planned on having children of her own. The X-Men star wants people to know that the reason she doesn't want to be a mother isn't about her not loving children, but "it was just something I never looked for." And although Famke hasn't been looking for motherhood, she doesn't deny that she may adopt one day.
Would I adopt a kid? Maybe one day. But would I adopt a baby? Maybe not. It might be a kid that's a little older.
Famke can currently be seen in The Wackness.
Source: OK! Magazine; Photo by Bill Davila/Startraks.