NBA player Elton Brand to be a first time dad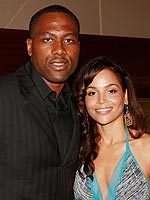 NBA player Elton Brand, 29, and his wife Shahara are expecting their first child this fall. An exact due date has not been given, but the new baby will arrive before the start of the NBA season in October.
The couple has been married since the summer of 2006. Elton, a former Duke University stand-out, had currently been a power forward for the Los Angeles Clippers, but as of this morning, it looks like he will be heading to the Philadelphia 76ers.
Source: LoHud; Photo by Evan Agostini/Getty.