Harry Letterman smells just like dad!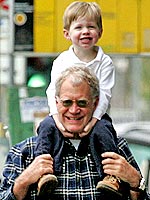 On a personal note during The Late Show recently, host David Letterman said that "the most exciting three hours in all of sports, is one inning of tee ball." He would know! David showed the audience a magnetized photo of his 4 ½-year-old son Harry Joseph sporting his tee ball uniform, and joked that he and partner Regina Lasko can't display the photo on their refrigerator because they are no longer able to afford one. "[Harry's] eaten us out of house and home!" David announced. He also revealed that Harry has inherited more than just his father's eyes, for the twosome also smell the same way. Said David,
I know everybody goes through it, but you know, four-and-a-half years ago I was the only one in my house who smelled like I do. And now we got him walking around. He smells just the way I do! Now there's two of us who smell that way!
Harry is the only child for David and Regina. Click here to see Harry's tee ball photo!
Source: The Huffington Post; Photo by Andrea Venturini/Bauer-Griffin.