CBB Reader Deal: 20% off Shady Day products!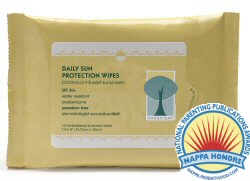 The summer sun is growing more intense, meaning babies (and adults) need even more protection from its damaging rays. The Skin Cancer Foundation recommends an SPF of at least 30 to 55 for babies, and one brand that falls into that range is Shady Day. CBB's Senior Editor, Danielle, is a huge fan:
For our recent two-week trip to Italy, I had packed Shady Day wipes (left, $14 for 15) as an afterthought, but I'm definitely packing them first for our next vacation — and in our diaper bag all of the time. I love that they are portable, fit almost anywhere, non-greasy, water-resistant, and have an SPF of 30. Normally, I hate the kind of sunscreen you have to touch or rub in because it's hard to remove from your hands since it's waterproof, but Shady Day Wipes don't leave you wanting to clean your hands right away. They are my new diaper bag must-have.
For the next two months, CBB Readers can help keep their kids sunburn-free thanks to a 20% discount on Shady Day purchases. Just use code CBB20% at check-out.