It's time for a Bailey Baio update! Since her last blog post in May, Renee Baio shares that she and actor/reality star Scott Baio's 8-month-old daughter has been quite busy, hitting her milestones and learning some new tricks. Bailey — who now has two bottom teeth — is sitting and "almost crawling," learning to roll a ball back and forth at Gymboree class, and enjoying her favorite food: mashed potatoes.
She throws kisses, makes raspberry noises and also a 'buzzzz' sound, like a bee. She is such a ham and is very bashful!
To celebrate Independence Day, the family attended a party at the Playboy Mansion (and Renee knows what you're thinking! She says they are "very kid-friendly."). The following day, Scott, Renee, older daughter Kalyn, and Bailey hit the beach in Malibu, which was Bailey's first time at the ocean. Next up: a public service announcement for expanded newborn screening tests, which the Baios will film the second week of August. The clip will air in September for newborn screening awareness month, which Renee and Scott have been publicly promoted since disclosing Bailey's false positive diagnosis. As for another season of their vH1 reality show, Renee explains that she and Scott are unsure, although he does have other projects in the works.
We are still in talks about another show. I am really on the fenceabout her getting too exposed. I feel that we are just having thetime of our lives right now and that is the most positive thing for us.Scott has three shows he is producing, with the first one starting toshoot in September.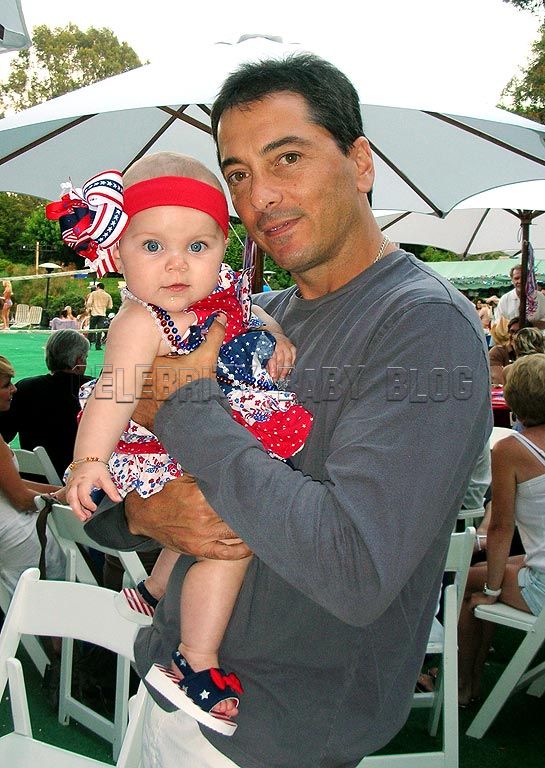 Photos for use on the Celebrity Baby Blog courtesy Scott and Renee Baio; not for use elsewhere without express permission.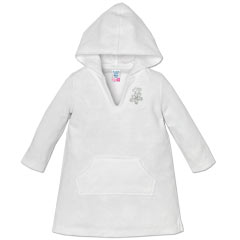 The Fourth of July outfit was custom-made by Servane Barrau for Mona Lisa Boutique.
Bailey's bathing suit and skirt are from Target — Renee added the lei.
Her beach coverup is from The Children's Place ($8), and the hat is by Baby New.
Both sets of shoes are from Koala Kids.
Click 'Continue Reading' for more photos of Bailey!