Chris Martin declares that a name is just noise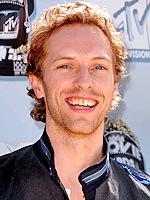 Coldplay's Chris Martin has heard every negative thing there is to be said about the uniqueness of his 4-year-old daughter Apple Blythe Alison's first name. And when it comes down to it, the 31-year-old sees nothing wrong with giving children names that are not the norm. In fact, he doesn't understand what is so odd about them at all.
There's nothing weird about calling your baby Chewbacca if that's what you want to call your baby. It's no stranger than Sarah. A name is just a noise, and if you like it, then f–k what everyone else says.
Despite his busy schedule, Chris is a very hands-on father — not even smelly diapers faze the rocker. He says he's of the belief that "men should always change diapers," considering it "mentally cleansing" and a "very rewarding experience."
It's like washing dishes, but imagine if the dishes were your kids, so you really love the dishes.
Chris and his wife, actress Gwyneth Paltrow, are also parents to son Moses, 2.
Source: Blender; August issue; Photo by Steve Granitz/WireImage.