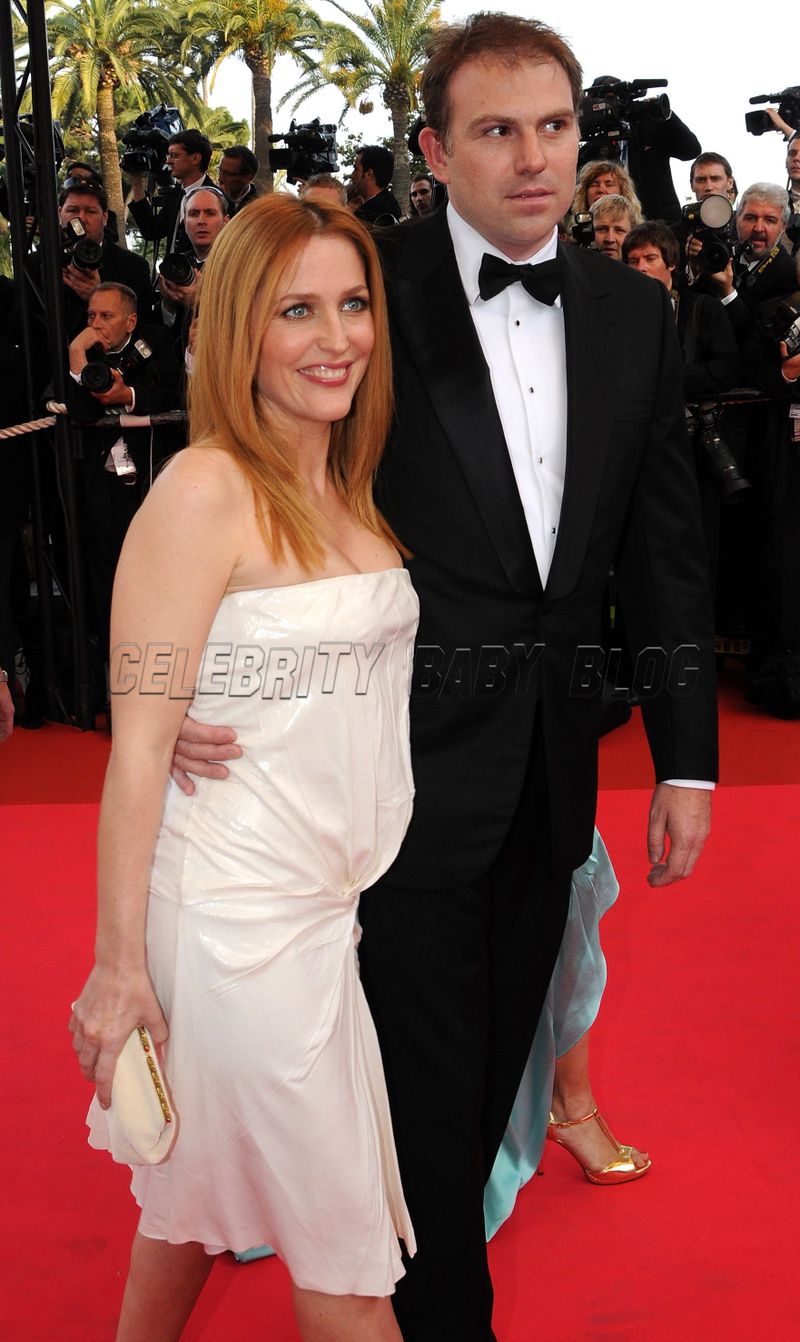 To the world she's 'Scully' from the hit show, The X-Files, but Gillian Anderson's two children — Piper Maru and Oscar — aren't phased in the least bit by her celebrity status. In fact, 13-year-old Piper — who grew up not watching television — was completely oblivious to her mom's Hollywood career and at the age of 11, when she did discover her mother was famous, Gillian revealed that "she wasn't particularly impressed!"
While her mother's fame may be old hat to Piper, the 39-year-old actress is convinced that perhaps her profession "has rubbed off on her a bit" as the teen "wants to be a director someday." In fact, Piper — using programs on her computer — has even been testing out the waters by creating a few films of her own, with one in particular that Gillian calls "an eerie black-and-white short that's a bit twisted" and likens to "an Eraserhead horror movie."
Comparing her daughter's upbringing to her own, Gillian — who is expecting her third child in the fall — said that the two are in fact very much alike. Both mother and daughter were raised as only children until they were in their pre-teens, and even moved to new countries around the same age. Gillian explains "I grew up as an only child in London until I was 11; then we moved to the States and my parents had two more kids." Piper followed in her mom's footsteps (albeit with the countries backward) with Piper being "an only child in the States until she was 12; we came to London right before I had Oscar."
Click below to read about Gillian's "relaxed set of rules" and her experience with explaining the birds and the bees to her daughter!
With so much currently going on in Gillian's life, including her upcoming movie, The X-Files: I Want to Believe, the actress makes it a point to spend quality alone time with her teenage daughter at least once a week. On Wednesdays, the duo traditionally will "see a movie or a play or head to a museum." Calling herself "lucky to live in London," the actress makes sure her family takes full advantage of "so much culture right in our backyard." And while she does love what the city has to offer, she admits that she does still occasionally "miss a turn on one of London's roundabouts and we have to go around a second time," much to her daughter's embarrassment!
As Piper is getting older, Gillian admits that "I probably don't have a clue as to what's coming," but says for now her family "has a relaxed set of rules" with Piper especially appreciative of there being "no set bedtimes on Fridays or Saturdays." However, with a laid back parenting style, don't think that Gillian doesn't dish it out every now and then, telling Piper "if she's going to be rude, she can leave the room and come back when she's interested in being more positive or communicative."
Being a mom to a teenager and her 20-month-old son can bring up many interesting — and sometimes difficult! — questions, but the one that has been the hardest for Gillian was explaining the birds and the bees. Gillian — "while driving, no less" — had Piper ask her "to explain the nitty-gritty of it," which Gillian did … or at least thought she had. After going through the talk, Piper "started up with the questions again" causing Gillian to think "Oh, man! I thought I was off the hook!"
Piper's father is Clyde Klotz, while Oscar and baby-on-the way's father is Gillian's boyfriend, Mark Griffiths.
The X-Files: I Want to Believe is set for release on Friday, July 25th.
Source: Family Circle, August 8th issue; Photo by Tony Barton for WireImage.
Thanks to CBB reader JP.