Kameisha Bennett says there is "more to life besides track"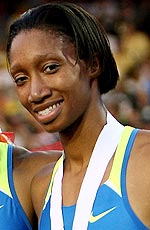 Track and field star Kameisha Bennett's dreams of participating in the 2008 Olympic games were dashed last week when she was unable to qualify in the womens 800m final. The 27-year-old wife of Miami Dolphins tight end David Martin was quick to characterize her performance as "a disappointment…not a failure," however — and credited the couple's children for her healthy outlook on the competition.
In 2006 Kameisha and David learned that their now 5-year-old son Darius Elijah has autism, and together they have been focused on securing him "the best therapy possible." In addition, Kameisha gained "a ton of weight" while pregnant with the couple's second son — 16-month-old Devon — and said she found the process of reclaiming her pre-baby body "really hard." Noting that she's "been through a lot" over the last several years, Keisha said that her disappointing finish "is minor" and "is not everything." She added, "I see there are more things to life besides track."
Source: USA Track and Field; Photo by Andy Lyons/Getty.