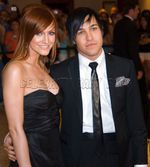 Fall Out Boy bassist Pete Wentz, expecting a baby in the fall with wife Ashlee Simpson-Wentz, has suggested that the couple are already considered the possibility of expanding on their family, telling People "we'll have to base the next [child] on how we do on the first one." In the meantime, Pete, 29, is making good use of the reference aisle at his local bookstore as he prepares himself for fatherhood. Ashlee, 23, may be the star of the show right now but Pete says he's taking steps to stay involved. The Expectant Father ($9.50) taught Pete the importance of acclimating baby-on-the-way to the sound of his voice; It's advice Pete said he has taken to heart.
I talk to it all the time…The woman, when she speaks, the baby hears her all the time. And the father's voice isn't familiar unless you talk to it, so I talk to it all the time.
The hormone swings of pregnancy can catch anyone off guard, and Ashlee — who craves ice cream, pickles and green olives — is no exception. Pete said The Expectant Father has been helpful not only in its discussion of the ever-changing moods of pregnant women, but also in its acknowledgment that dads experience emotional upheaval as well.
It tells you your partner's moods month-by-month and week-by-week. It tells you why you're feeling the way you are, how you can feel more involved in the pregnancy.
Pete and Ashlee were married in May.
Source: People; Photo by Ilya Dreyvitser/WireImage.com.
Did your husband/partner read baby books during your pregnancy? Which ones?