Pablo Montero baptizes son
Latin actor and singer Pablo Montero flew to Los Angeles last weekend to celebrate the baptism of his son, Pablito, born September 26th. Currently filming Fuego en la Sangre on location in Mexico City, Pablo, 34, was joined in California by girlfriend and mother, Argentine actress Sandra Vidal, and godparents Eduardo Verástegui and Daisy Fuentes.
"I can't believe how big and strong he is," says Daisy of 9-month-old Pablito. "He bites hard…with those little teeth."
Pablo's mother, Mercedes Rodríguez de Hernández, also present, was moved to tears during the ceremony. "It's my only grandson, and he's so far away from us," says Mercedes, who lives in Torreón, Mexico. "It's nostalgic."
Exclusive photos will be available in People en Español's September issue, on newsstands in August.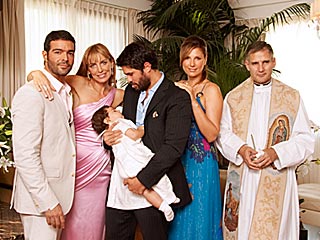 Source: People en Español; Photo by Raúl Vega.