Ulrika Jonsson says her "instinct is to mate"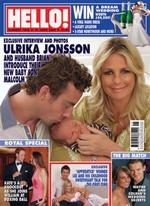 Moments after welcoming her fourth child, 3 ½-week-old Malcolm Charles Trip, British television presenter Ulrika Jonsson, 40, says her thoughts turned immediately to baby #5. In a new interview with Bella magazine, Ulrika — who feels it is her "instinct is to mate" — says that as Malcolm was delivered and placed on her belly she recalls thinking "Oh my god, I want to do this again." She adds,
I just love this feeling of having a child. As any woman consumed by the need to procreate will vouch, it's not an emotion you can brush to one side.
Ulrika went on to echo sentiments from an earlier interview with Hello UK., in which she revealed a laid-back approach to postpartum weightloss. She tells Bella that she plans to begin exercising again in September, but not "manically" and instead hopes to lose the baby weight "in a reasonable way."
Malcolm is Ulrika's first child with husband Brian Monet; He joins siblings Cameron Oskar George, 13, Bo Eva Coeur, 7 ½, and Martha Sky Hope, 4, from Ulrika's previous relationships.
Source: Daily Mail via Bella; Cover courtesy Hello!