Emma Bunton says "it's tough" to return to work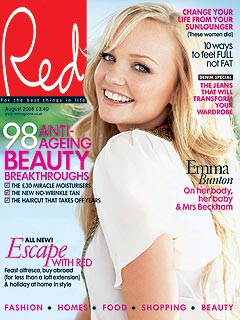 In a new interview with the UK's Red magazine, Spice Girl Emma Bunton admits that returning to work so soon after the birth of her son Beau Lee, 10 ½-months, was difficult. While she had a "great time" on the newly-reunited Spice Girls' world tour, the 32-year-old singer says she "should have thought about it more" before committing to such an ambitious schedule.
It's tough for any woman returning to work straight after having a baby. I didn't want to be in the gym 24 hours a day, instead of being with Beau. And I wanted to breastfeed for the first couple of months.
Emma — who says she enjoys "being curvy" — did lots of walking to get herself stage-ready, but couldn't do sit-ups as a result of Beau's delivery by C-section, something she said was necessitated because she was "overdue." When she did finally perform with the Spice Girls, Emma admits she at first felt "self-conscious" about her postpartum figure — but eventually she learned to relax.
One night, I was up on stage and it just hit me: Hold on, Emma, everyone knows you've just had a baby, enjoy it.
Beau is the first child for Emma and longtime boyfriend Jade Jones.
Source: Red; Photo courtesy Red.