Penny Lancaster, Rod Stewart trying for another baby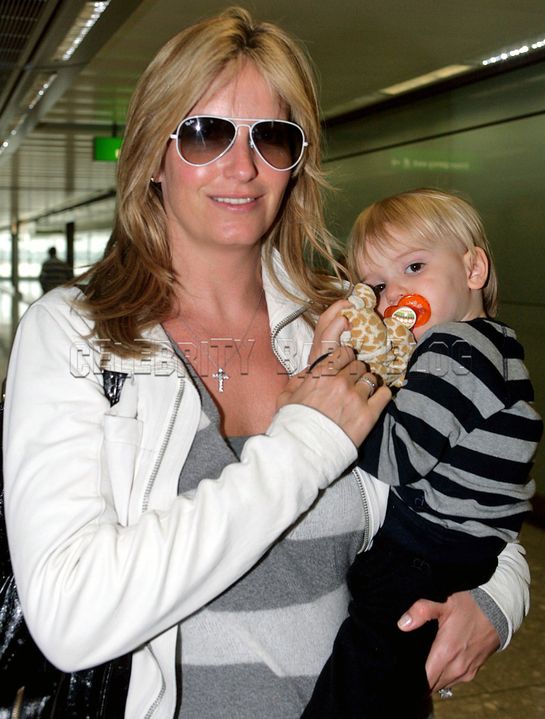 If his parents get their wish, 2 ½-year-old Alastair Wallace Stewart will be a big brother sooner rather than later. Penny Lancaster Stewart reveals in new interview with The Mirror that her and husband Rod Stewart "are trying for another baby." The 37-year-old model says that the couple wanted to start trying right after Alastair was born but decided to "hold out" until after their June 2007 wedding. "Now it's a case of wait and see," Penny said, adding that the couple is "not even thinking" about fertility treatments yet.
Another little boy would be wonderful but I'd also love a little girl — one of each would be perfect.
Penny said that between she and Rod their son gets "a good mix" of parenting styles. While Penny describes herself as "strict," she said Rod is "very laid back."
So Alastair goes out with Dad and gets all muddy and has the chance to be a real boy. He breaks the rules with Rod and gets more practical advice from me, which, I believe, helps make him feel secure.
Click 'continue reading' for Penny's thoughts on being a step-mom, breastfeeding and more.
"Everyday [Alastair] does something different," Penny said, and right now the couple is having fun with their son as he masters his vocabulary. She adds,
He's always doing cute things. He's just learned to say 'Aberdeen' with a Scottish accent but Rod's mission is to teach him how to say Celtic, so he keeps trying to correct him saying, 'No, Celtic!'
When she married Rod, Penny became a step-mom to Rod's six children from previous relationships. It's a role she says she welcomes, and approaches with candor. "The best way to get with step-kids is to be yourself," she says, because "kids can sense if someone isn't genuine." She adds,
I jump from being mother figure to a friend. I think if you're loving and caring, and make their dad happy, there shouldn't be any problems.
Penny calls the pressure for new moms to return to their pre-baby size "unhealthy." Public comments about her own postpartum weightloss caught her off-guard, for she says that at the time she wasn't at all focused on getting her figure back. Instead, Penny says, "Alastair was my main priority."
I'd never deprive myself on a silly diet while I was breastfeeding — it starves your baby of the nutrients it needs.
Source: The Mirror; Photo by BauerGriffinOnline.com.