Laila Ali "not worried" about baby weight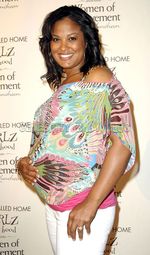 As she settles into the third trimester of her first pregnancy, Laila Ali is not sweating her 25-pound weight gain. "I'm gonna go back to that gym and work it all off so I'm not really worried about it," the 30-year-old American Gladiators host tells Entertainment Tonight. The baby boy, to be named Curtis Muhammad, is already a source of great pride for Laila's dad, legendary boxer Muhammed Ali, whom Laila said is "very excited to be having a boy in particular." Laila's husband Curtis Conway is no doubt equally excited, and Laila said that she's counting on him to keep her in check.
I think I'll be one of those overprotective mothers that can be a little too strict sometimes. My husband is going to have to watch me to make sure I don't go overboard!
Laila, who plans a natural homebirth, is due the first week of September.
Source: OK! via Entertainment Tonight; Photo by Apega/ABACAUSA.com.