Get ready for summer travel, celebrity-style: What to pack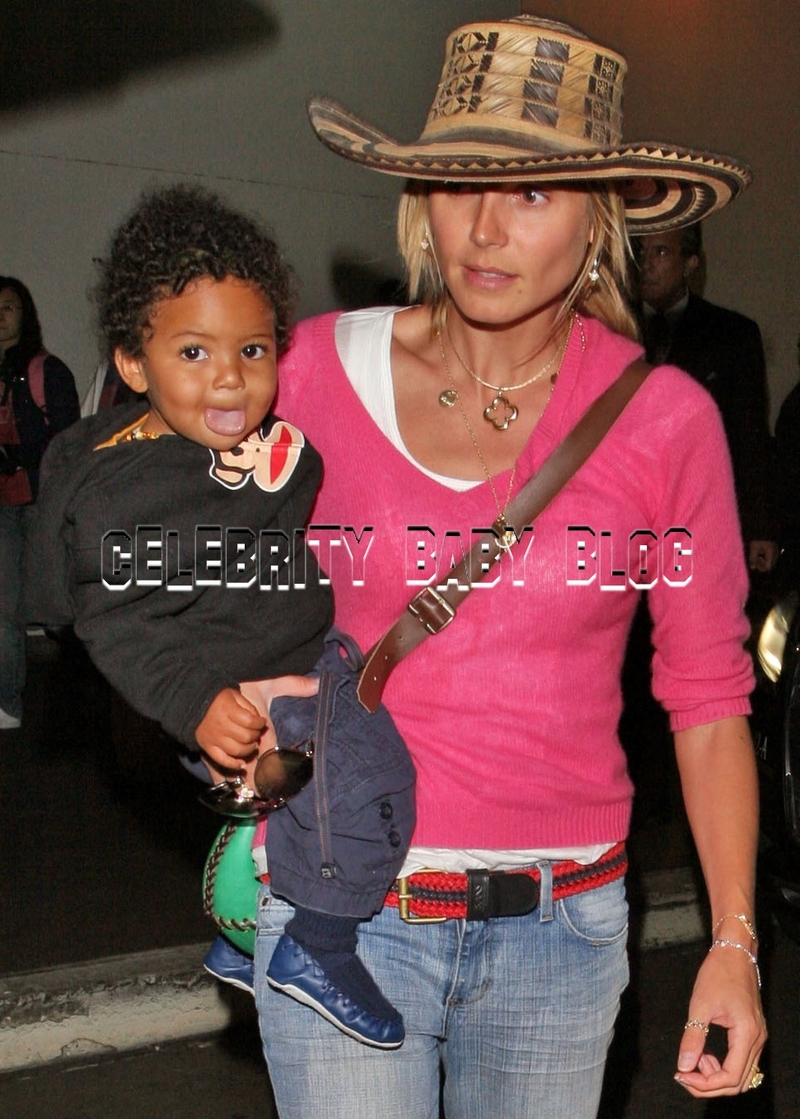 Whether it's by car, train, boat, or plane, your first trip withyour kids or your fifth, the preparation can be daunting. Unlikecelebrities, most of us don't have an entourage of nannies and personalassistants to help us manage the process, or access to private jets,but we came up with some of our favorite travel tips to help you travellike a celebrity. So grab your huge sunglasses and check out our summer travel cheat sheet to minimize the stress.
Click Continue Reading for what to pack and more tips.
Photo: Heidi Klum with son Johan (bauergriffinonline.com)
TravelforKids.com has a great suggestion for how to pack for your kid:Imagine that you're going for a long weekend to a childless friend'shouse and pack your diaper bag accordingly. You'll be able to buy allthe usual favorite items (sippy cups, bottles, formula, diapers, wipesetc.) at local pharmacies or grocery stores, but you want to have agood three days before making that stop.
Inevitably, your kid won't want to sit in his stroller so make sure you pack a sling. We like Karma Baby's Solarveil sling ($69), which can be worn in or out of water and dries very quickly. I've used it in the pool, ocean, and even the shower!
We asked Dr. Laura Jana, pediatrician, American Academy ofPediatrics spokesperson and Injury, Violence and Poison Preventionsection member, author and mother of three, for her best road safety trip. She said, "When hitting the road, make sure young children are strapped in properly. Look for child seats with higher weight limits for rear-facing and five-point harness use, as well as side impact protection. And go to a car seat check up event to make sure your seat is installed properly."
Good things to stock up on:
When you first arrive at your destination, stop at a Target,K-Mart, supermarket, etc. to stock up on the basics like diapers,wipes, swim diapers, formula, beach toys, sunscreen, etc. (Before youleave, call the hotel to find out which one is nearest the airport orhotel.)
If you're traveling out of the country or to a vacation area, buysunscreen at home because hotel shops tend to be quite expensive.
For toddlers, pack a few instant hot cereal, instant rice, and otherjust-add-water packets. They'll come in handy at restaurants wherenothing on the menu appeals to your little one.
Other travel goodies:
The Cereal-On-the-Go container ($3.99) keeps the dry snacks dry and the cool drinks cool.
Reduce the amount of gear you carry with an all-in-one product like Mariska Hargitay and Brooke Burke (right), who use Lilly Gold's Sit'n'Stroll($220), a 5-in-1 product that you can use as a rear- and forward-facingcar seat, a stroller, toddler dining booster seat, and an FAA certifiedairline seat. It is suitable for babies from newborn to children up to40 pounds.
Check out our summer-related reviews of:
---
What travel items are must-haves for you and your family?