Jazzy Toes: Totally adorable footwear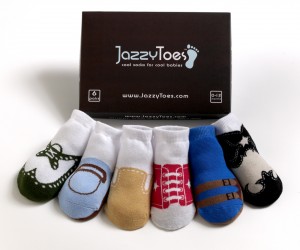 Baby foot fetish alert! If you find yourself helpless when confronted with cute products for itty bitty baby feet, go throw your wallet in the freezer to cool off right now. Otherwise read on.
Check out these socks that look like shoes by Jazzy Toes. I've seen this concept done in socks and booties for girls before but haven't seen as many cute styles for little boys. Jazzy Toes are particularly well executed. I'm loving the variety pack of all six styles ($27). It's like a whole little instant foot wardrobe. So when my son is wearing his eco-friendly tees, I have some Birken-socks for him, and when he is kitted out in fancy pants, I've got some stretchy knit wingtips. And when he is just lounging around, kickin' it with his peeps – we have the soft cotton loafer look to complete his ensemble. Sneakers, deck shoes, and cowboy boots round out the collection.
Jazzy Toes makes a girly variety pack as well, so don't get your knee-high's in a twist if you only have daughters to dress. Sold in irresistible sets of six, these super baby socks get two big toes up from my mini product tester.
Get yours at the Jazzy Toes site.