Celtics' Ray Allen's kids shop for summer shoes from Geox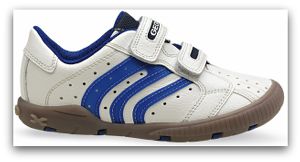 Celtics shooting guard Ray Allen's kids, Ray, 3, and Walker, 1, were recently spotted in the Natick, MA Geox store checking out the new styles. They picked out the styles shown here: Junior Finder ($60, left), a waterproof sneaker which is made of "geobux" and tumbled leather, and Baby Sandal Hawk ($60, right). We're told that the basketball star's kids love Geox and can be seen wearing them all the time.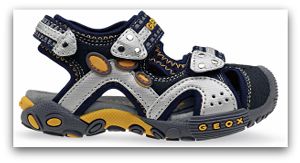 Other celebrity parents whose children wear Geox include Helena Christiensen, Cindy Crawford, Julianne Moore, Russell Crowe, Sarah Jessica Parker, Kelly Ripa, Paul McCartney, Kate Hudson and Angelina Jolie.
Geox is one of the most popular casual footwear brands for kids worldwide. Each shoe is made with Geox patented breathable soles, which allows sweat vapors to leave without letting water in – creating the perfect climate controlled system for cool, dry feet. We love the brand because the shoes are so stylish and comfortable, and have fun colors and designs.