Nicole Kidman says baby was 'meant to be'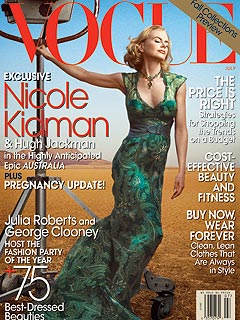 Like millions of women before her, Nicole Kidman openly wept the first time she saw her child on an ultrasound, for there was a point in time when that moment was one she feared she might never experience. Having a baby with husband Keith Urban has been "a blessing," Nicole said — a blessing which has only been enhanced in its timing. In a candid new interview in Vogue's July issue, Nicole said that embarking on new motherhood at 40 means she is "so much more capable of receiving love and giving it in a far different way." She added,
To be given the blessing of a child at this stage of my life…you just say, 'Wow, this was meant to be.'
Nicole laughed when told by the interviewer that her diminutive frame has led some to speculate that her pregnancy is somehow not real. Putting the interviewer's hand on her belly and revealing that she "just felt some kicking," Nicole called pregnancy "primal" and said she loves the "unpredictable nature" of it. She added,
To feel life growing with you is something very, very special, and I'm going to embrace that completely. I don't believe in flittering around the edges of things. You're either going to walk through life and experience it fully or you're going to be a voyeur. And I'm not a voyeur.
Click 'continue reading' to hear more about Nicole's morning sickness and Antonia Kidman's thoughts on pregnancy.
Nicole has previously spoken about her bouts of morning sickness, morning sickness her Australia co-star Hugh Jackman deemed "horrendous." Still, the 40-year-old actress was "a trouper" who "put everything on the line every day," Jackman said. After years spent being "lonely" Nicole said she's truly content with Keith; The child they are expecting in late July has only brought more happiness to their lives.
My sister [Antonia Kidman] has had four kids, and she says that when you're pregnant you draw people to you who are genuinely happy. She's right. It taps into that thing in human nature that is universal and collective and beautiful.
Source: Style.com; Photo by Annie Leibovitz / Vogue; courtesy People.