Ulrika Jonsson introduces son Malcolm Charles Trip Monet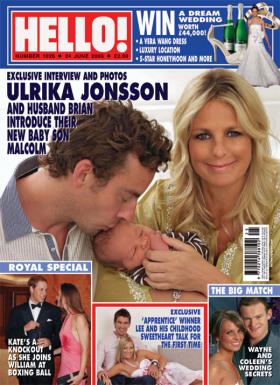 Swedish-born British TV presenter Ulrika Jonsson and her husband Brian Monet introduce their first child together, son Malcolm Charles Trip Monet, 10 days, in this week's edition of Hello! UK. Inside, Ulrika revealed that she didn't think she "could have had a better labor," although she did "hemorrhage heavily afterwards." (The baby weighed in at 10 lbs.)
The great thing was that the laborstarted naturally which was very important for me because I was inducedwith Cameron and Bo and had a Caesarean section with Martha. This timeI had an epidural, but could still feel when it was time to push whichwas very important to me because I wanted to experience a naturallabor.
With Malcolm being Brian's first child, anybody would excuse him for panicking a little when Ulrika's labor kicked in and his son finally made his appearance, but the mum-of-four says he was the total opposite.
That's your son," I told him and tears were welling up in his eyes. This was the first time for him, but he astounded me by his calmness and has settled in to fatherhood in a really normal way.
She also admitted to disliking her newborn son's name, but has since "warmed to the idea."
Malcolm was an earlysuggestion from my American husband. I told him that Malcolm was not acool name in Britain but gradually I warmed to the idea! His middlename is Charles, which is Brian's middle name and also the name of ourdear friend Charles Worthington. And the third name is Tripp, thecharacter played by Donald Sutherland in the TV series Dirty Sexy Money."
Click below to read how Ulrika feels about her 70 lbs weight gain during the pregnancy.
Although she gained 5 stone (70 lbs) during her pregnancy,the 40-year-old is in no rush to get back to her original size, sayingshe is "happy to be called fat or weighty by the papers" for "theforeseeable future."
I will get mybody back but I will take my time. I am nearly 41 and have just had myfourth child. If my body doesn't bear the hall marks of that, then whatwas the point of having the children? It might be harder to get backin shape this time, but I am not obsessed about it.
Sharing that she "is an I cup (H in US) since my milk came in," Ulrika explained that she feels such changesare just part of the experience of having a child.
The point is that I am doingthe most important job that any woman can do and I am very happy togive my body over to this wonderful process, and very relaxed abouttaking time to get my body back.
Malcolm joins siblings Cameron Oskar George, 13, Bo Eva Coeur, 7 ½, and Martha Sky Hope, 4, Ulrika's children from previous relationships.
See more photos in the latest issue of Hello!, and at The Daily Mail.
Source: Hello! magazine; Cover courtesy Hello!
Thanks to CBB readers Joanne and Kate.