Tori and Dean talk about Liam's 'snappy' style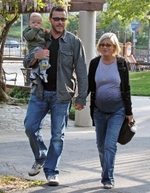 Stella Doreen McDermott, 1-week, will no doubt have an envious wardrobe someday but from the sound of things, it could be rivaled by that of big brother Liam Aaron, 15-months. In a recent interview conducted before Stella's June 9 birth, Tori Spelling and Dean McDermott — Stella and Liam's parents — said that their son is quite a "snappy dresser." Tori added,
[Liam]'s got no say in it, but he has style.
Dean noted that although "little boy's clothing has come a long way" he's nonetheless "looking forward to little, frilly girl stuff." One thing Tori is certainly looking forward to is maintaining an open dialog with both children; It's something she said she missed out on in her youth, for her own family "didn't talk a lot about stuff." She added,
We were all pretty passive-aggressive, and we weren't very communicative with each other. That's something that I've definitely taken and said I want to change with my family.
Tori, 35, and Dean, 41, were married in 2006.
Source: Zap2It; Photo by Flynet.