Featured Review: Natural Pod: Don't just stand there … play!
by Stephanie: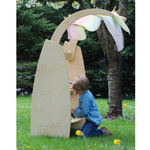 If I tell you that I have a 3 ½-year-old and a 5-month-old and I just got rid of my television you will probably think I'm crazy, wouldn't you? And there are certainly times that you would be right. But there are other times — like when my son is happily making 'soup' with little felted wool vegetables and taking my order at his wooden 'restaurant' — that I know it was the best decision I ever could have made. Truly, I have Natural Pod to thank for our TV-free success — were it not for their inspiring playstand and creative-play toys we might be sitting around twiddling our thumbs. And somehow I can't see that going over very well with my son.
Several weeks ago, we were lucky enough to receive a jaw-droppingly gorgeous wooden playstand from Natural Pod. Handmade on Vancouver Island in British Columbia, Canada, this playstand was designed and manufactured exclusively for Natural Pod. And to say that it's stunning would be an understatement.
Click here for more information about this creative play masterpiece!