The 'natural evolution' of Chris O'Donnell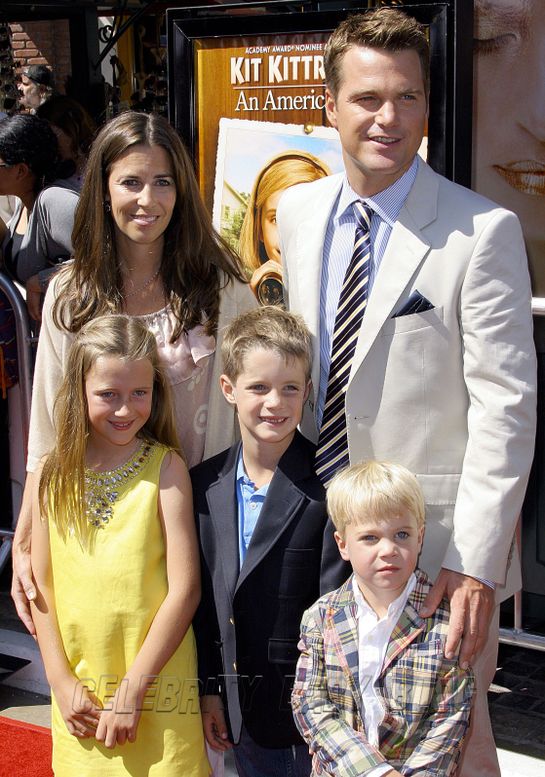 Despite his lengthy career, Chris O'Donnell has never played a parent on-screen until now, in Kit Kittredge: An American Girl. The actor's latest offering features Chris in the role of 'dad' to the title character Kit; Taking the part was, Chris recently told lilSugar, a "natural evolution" that mirrored his own life as dad to Lily Ann, 8 ½, Christopher Eugene Jr. (a.k.a. Chip), 7 ½, Charles McHugh (a.k.a. Charlie), 4, Finley, 2, and Maeve Frances, 6 months.
It felt like the role was easy for me to relate to because I've got an 8-year-old daughter and the emotions that Mr. Kittredge is feeling for his daughter — I just understood and connected with that.
Were he not already a father, accurately conveying the love Mr. Kittredge has for Kit would have been far more difficult, Chris said. Describing the love he has for his own children as the kind "where you would put yourself in front of a moving train," Chris noted that "we all love our parents and we love our spouses, but until you have your own kid you don't really know what that kind of love is."
Click 'continue reading' to hear about how Chris stays in touch with his kids when he's on location, and how he handles their questions when he doesn't know the answer.
Chris has hinted previously that he took on the role of Batman in order to please his sons. When asked by lilSugar if his daughter provided similar motivation for him to sign on to Kit Kittredge, he revealed that Lily Ann "is a fan" of the American Girl brand. But regardless of the part he's playing, being away from their dad while he films on location is tough for the kids — and vice versa, Chris said.
In my business it's feast or famine when it comes to spending time with my kids. I either have more time than I know what to do with or I don't have any time with them, so I try to maximize my time when I'm with them.
The family stays in touch via Apple iChat, Chris said, and sometimes even over the Internet he's asked a question that gives him pause. When he's unsure of how to answer, Chris said often he relies on his own family for guidance … and stalls for time!
I'll be calling my older brothers or sisters and asking what do we tell them about this again? Because you realize they are coming to you for all this information and most of it is instinctual, but every once in a while they'll come up with something and you'll think that's a tricky one. You know, let me get back to you on that one.
Chris, who turns 38 next week, and wife Caroline Fentress were married in 1997.
For more of the interview, visit lilSugar; Photo by Tonya Wise/London Ent/Splash.