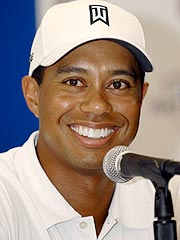 Tiger Woods won his third U.S. Open this afternoon in sudden death after forcing an 18-hole playoff on Father's Day. The timing couldn't be better. On Wednesday he'll mark one year as a father, himself, when he and wife Elin celebrate the first birthday of their daughter Sam Alexis. In a press conference leading up to the tournament, Tiger — who took a two month break from golf following knee surgery in April — said that being a dad proved to be the best medicine. "There's no way I could have gotten through this without Sam being there," Tiger, 32, told reporters, "spending that much time off and away from training and trying to get better, Sam was absolutely incredible." He added,
I had so much fun doing that. It took my mind away from the fact that I had a surgery done, and just watching her grow, walking, running now, it's been just the greatest thing in the world.
As Tiger prepared to hoist the trophy earlier today, having his wife and daughter on hand made the win all the sweeter. Said Tiger,
It's unreal. I understand why my dad was so emotional when I won and I brought it back to him. I understand, now that I'm a father, how he felt. To have my daughter there and Elin there, it means so much more when you do it. Obviously, it's not Father's Day, but close enough.
Sources: Kansas City Star, Chicago Sun-Times; Photo by Nick Wass/AP via People.