CBB Exclusive: Scott and Renee Baio open up about Bailey's health scare, Part 2
Yesterday, actor Scott Baio celebrated his first official Fathers Day. While it would be momentous in any context, for Scott and wife Renee Baio each day spent with their 7-month-old daughter Bailey DeLuca is viewed as a blessing. On Friday we told you about how, in the weeks and months after Bailey's birth, the Baios lived with the uncertainty of not knowing whether their daughter was afflicted with a potentially deadly metabolic disorder known as GA-1. Though their prayers were answered when doctors conclusively determined that Bailey is in perfect health, the ordeal has had lasting implications for them both.
Click 'continue reading' to learn why the test for GA-1 yields so many false positive results, to hear how Bailey's health scare has changed the Baios outlook on life and to learn about their plans to help others.
Although Bailey doesn't have the disorder it's possible that she carries the gene for GA-1, which could explain her initial positive blood tests on the ENBS. Dr. Stephen Cederbaum, who treated Bailey at UCLA, says that "inherent human variation" is more often the culprit. Testing for GA-1 is difficult in that the cutoff range for a normal result is set in such a way to ensure that all actual cases of GA-1 are quickly captured. Consequently the test "inevitably generates false positives, sometimes as many as 25 for every one real case," Dr. Cederbaum noted, citing studies from South Carolina. He added,
With more experience we may be able to revise the criteria and generate fewer false positives in the future.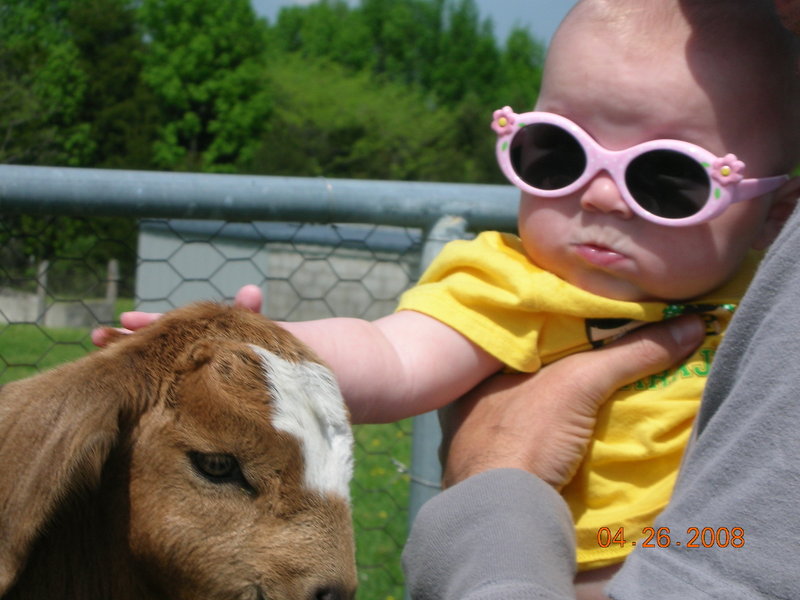 While she may never know exactly why her daughter's test yielded the results it did, Renee — who lost Bailey's twin at 11-weeks — says that she no longer tortures herself with the question of why she miscarried. She suspects Bailey is a carrier of the gene, and as a result, said that finding out about GA-1 has brought her a sense of closure.
Three days before Christmas I was laying down with Bailey in the afternoon, sleeping with her, and I don't know if it was a dream or if something just came to me, but whatever it was told me that the other baby had GA-1, and that's why God took her. Maybe she was a carrier. Maybe Bailey just needed to go through this, because it was God's way of letting us know what happened to our other baby.
For Scott, living in limbo for so many weeks has left him with a newfound appreciation for life.
It was a horrible thing, but honestly, in a way I'm glad I went through it. Because this sort of thing puts everything else in perspective. Throughout the course of normal life, you forget what's important, and you just seem to lose track of things. I still am guilty of doing that. But every time I think about it, when I think about [Bailey] possibly being not well, I think 'Screw everything else.' Every night before I go to bed I thank God, I thank God almost every half-hour that she's okay.
That the ENBS is not mandated in all states is a huge concern for the Baios. (For a map that gives detailed information on what newborns are screened for state-by-state, click here.) To that end, they're working to establish the 'Bailey Baio Angel Foundation' to draw attention to the issue, and to eventually disseminate funding to families affected by GA-1. While the disorder has no cure, it is treatable — but insurance often fails to cover the associated costs. This leaves families on their own in their efforts to ward off metabolic crises every day, whether it is through dietary restrictions, vitamin and mineral supplements, or other methods.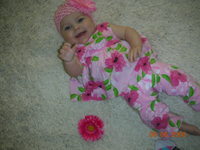 One such family that the Baios are trying to help is that of 5-year-old Lily Rodrigues. Born in Colorado, Lily was administered the standard newborn screening test immediately after her birth — but not of the expanded variety, like that offered in California. As such, doctors were unaware that she was in fact afflicted with GA-1; After a metabolic crisis in 2004, she was left with irreversible brain damage. That her condition could have been detected — and her injuries could have been avoided — had her mother only been offered the ENBS at an additional cost of $25 is heartbreaking for the Baios. That's why they're financing a trip for Lily's mom to the 2008 FOD/OAA National Metabolic Conference in Pittsburgh, PA next month.
The Baios insist that it is only the beginning of their charitable efforts to bring awareness of GA-1 and the need for ENBS. As they work to get their foundation squared away, they've been posting updates about their progress on their MySpace. Says Renee,
The first 10-weeks of Bailey's life changed our lives forever. Forever. And we get it. We know we need to be a voice here, and that's what we're trying to do.
For more information on GA-1, visit:
For more information on expanded newborn screening, visit:
STAR-G (Screening, Technology and Research in Genetics Project)
For more information on the Bailey Baio Angel Foundation, visit the Baios MySpace.
Photos for use on CBB courtesy Renee Baio, not for use elsewhere without express permission.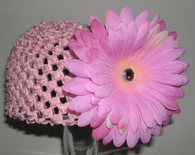 In the last photo, Bailey is wearing a pink daisy cap from Simply faBOWlous ($22).