Salma Hayek and her "Puella Petit"
Puella Petit means little girl in Latin/French, which fits actress Salma Hayek's pretty daughter Valentina Paloma Pinault to a tee! When the mother-daughter duo stopped off at Joan's On Third in LA on Friday, Valentina, 8 ½-months-old, was decked out in Puella Petit's long sleeved cherry dress ($60), paired with Kuuru Peyton shoes ($39).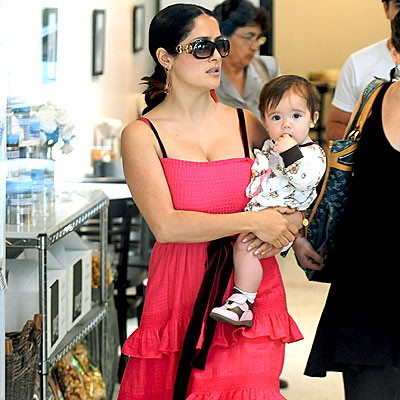 Puella Petit, Puella Girl and Puella are known for their dreamily soft cottons with gentle pastel colored organic prints. It's impossible not to adore thesecharming pieces which explains why Jennifer Garner and daughter Violet Affleck, Tori Spelling and daughter Stella, Samantha Harris and daughter Josselyn, Shanna Moakler and daughter Alabama, Rena Sofer and many more are snatching up the soft cotton pieces by this haute line.
CBB Deals: Puella Petit is offering a great deal – a grab bag of 7 pieces for $100. Plus use code CBB25 for 25% off your own pair of Kuuru shoes.
Photo: Novo/Steve/Jason/National Photo Group via People.com