Evan Handler talks about the 'privilege' of being a dad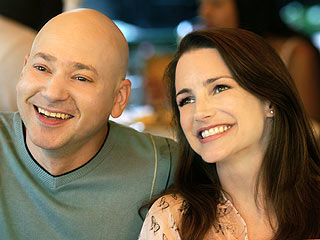 The "awesome and humbling" responsibility of parenthood, Evan Handler recently said, is "a privilege." In a new blog entry for Graco, the Sex and the City actor revealed that — for him — the best part of being a dad is watching his wife Elisa, an Italian-born medical researcher, be a mom to the couple's 14-month-old daughter Sofia. "To see the woman I love, who wasn't at all sure she'd have any maternal instincts, just glowing with love for her daughter, and oozing enjoyment and tenderness, is remarkable," Evan said. He added,
I know a lot of women have trouble adjusting to motherhood (and, judging from my own experience, I can understand it). My wife, however, wants to open the photo album to look at pictures the minute the baby is asleep, because she already misses her.
Sofia is learning Italian at a "2 to 1 dose" courtesy of Elisa's heritage coupled with that of their Italian nanny, Evan revealed. So it should come as no surprise that his daughter's favorite book, Ci vuole un fiore, is in Italian! When she's not working to learning two languages Sofia can often be found in the bath, her "favorite" place to be, Evan said.
She was indifferent early on, but now she's just in heaven. She laughs, splashes, talks to herself and her toys, and has the most brilliant time.
Evan, 47, and Elisa were married in 2003.