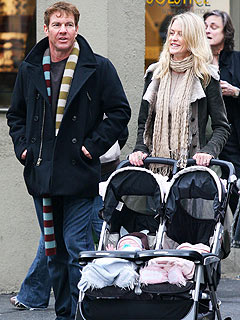 When Dennis and Kimberly Quaid, parents to 7-month-old twins Thomas Boone and Zoe Grace, realized all that they were missing in Dennis' home state of Texas they decided it was a "no-brainer" to relocate. The couple have purchased "a really nice plot of land" near Lake Austin, Dennis said, where they'll enjoy having "30 or 40 friends and family members within two miles." Meanwhile, the twins are fully recovered from the near-fatal heparin overdose they suffered while still newborns, an ordeal Dennis deemed a "medical catastrophe."
Thank God it had a happy ending. We took [the twins] to the kiddie pool for their first swim today. They loved it.
Dennis, 54, is also dad to Jack Henry, his 16-year-old son with ex-wife Meg Ryan.