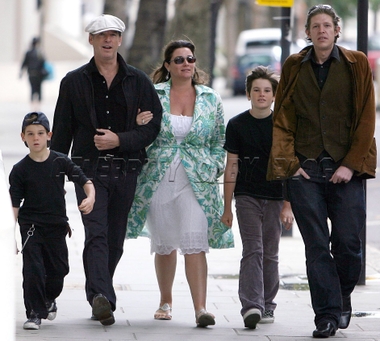 If paradise really does exist, Pierce Brosnan thinks he's found it. In a new interview with Parade conducted from his oceanfront Hawaii home, the 55-year-old actor said that he, wife Keely Shaye Smith and their two sons Dylan Thomas, 11, and Paris Beckett, 7 are leading "a very simple life" — and they wouldn't have it any other way. Moving to the island from the mainland has afforded the family a "very insular" and "rewarding" lifestyle, Pierce said. He added,
It has allowed me to be a father who can sit quietly with my two young sons, Dylan and Paris. I paint, and they paint. And we play guitar. We play ukulele. My wife is an ace gardener, and the kids get in the mud with her.
In addition to Dylan and Paris, Pierce is father to Sean, 24 — his son with his first wife, the late Cassandra Harris. Pierce also adopted Cassandra's two children from a previous marriage — Charlotte, 36, and Christopher, 35.
Source: Parade; Photo by Ramey Pix.