Ana Ortiz says she'll have kids sooner rather than later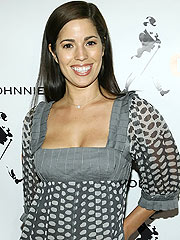 The last time actress Ana Ortiz saw Salma Hayek, her producer on the hit show Ugly Betty, the pregnancy torch was passed. Salma was still pregnant at the time with daughter Valentina Paloma, now 8 ½-months, and she pointed to Ana declaring "You're next!" From the sound of things, Salma's prediction wasn't far off the mark. Ana, 37, says that she and husband Noah Lebenzon "are definitely talking about kids" and the couple hopes to welcome a baby "sooner rather than later." She added,
I want to make sure that I have at least three kids. Even if I don't give birth to all of them. Adoption, natural -– everything is up in the air!
Ana and Noah celebrated their one-year wedding anniversary on Monday.